syneshesia of color, sound and forms

LINGUO-GRAPHIC

Graphic works on linguistics after V.Vetash

THE SYSTEM OF CORRELATION OF SOUND AND COLOR

The color of sounds is determined according psycholinguistics and the theory developed by the author, described in the article Color Alphabet.

Its foundation is the main triangle of vowels A-I-U, correlating with the basic three colors. Consonants are

colored according the main acoustic organ, creating sound, i.e. according the system of closeness with vowels.

Laryngeal and back A (red) and O (yellow) give their tints to guttural, velar and uvular (G, K, H etc.) that have colors from ochre to brown. Front (deep blue) I and more closed (daffodil-green) E give color to point and dorsal dental sounds (S, Z, T, D etc.) that have blue-green and gray tints. According labial deep-green U, labial (B, P, V, F etc.) have from warm-green to emerald tints.

(sounds are denoted with transcription signs of IPA)

VOWELS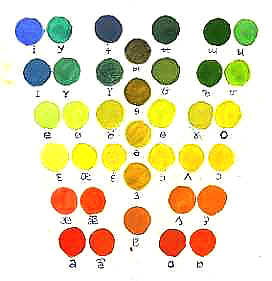 CONSONANTS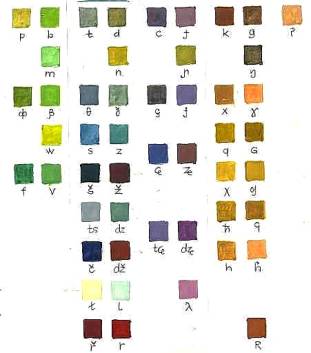 COLOR OF RUSSIAN LETTERS
IN APPROXIMATE ZONE OF THE ZODIAC SIGNS, THE MOST INHERENT TO THEM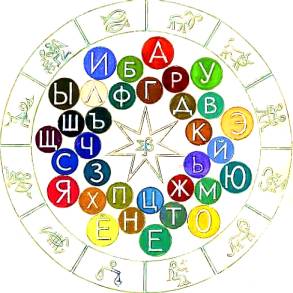 AN EXAMPLE OF WORDS' COLOFORMS
(the illustration for the article about the names of Saint-Petersburg and Leningrad
and correlation between the name and the character of region,1990)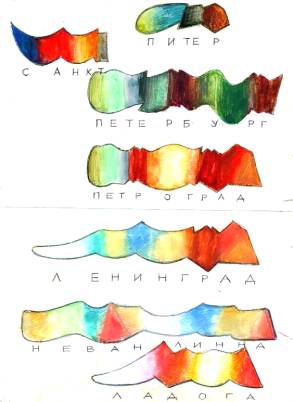 slang "PIT'ER"

"SANKT-PETERBURG"

"PETROGRAD"

(the Russian translation of "Petersburg":

the name of the city

in the revolutionary

period of 1914-1924)

"LENINGRAD"

"NEVANLINNA"

(Finnish name of local

town after NEVA river)

hydronime "LADOGA" lake

COLOR-FORMS

(the correlation of color with corresponding form and character

according color-psychology (developed by the author in 1983)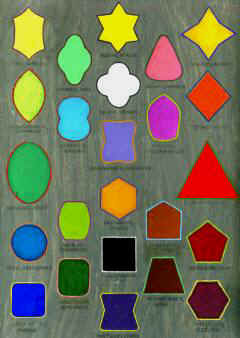 VARIANTS OF LETTERS FOR INTERNATIONAL ALPHABET
see article "International Alphabet Interbet"
(in center - the triangle of vowels in their color and form /1987/)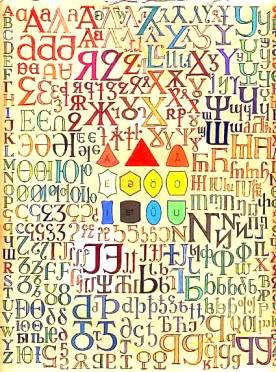 COLOR INTERBET (1983)
ONE OF THE VARIANT OF THE INTERNATIONAL ALPHABET
PRESENTED ON THE COLOR BACKGROUND
APPROPRIATE TO SOUNDS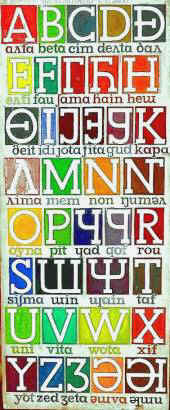 LINGUISTIC PICTURES ON COMPARATIVE PHILOLOGY
Color-form IMAGES of some LANGUAGES
of ÀSIA and EUROPE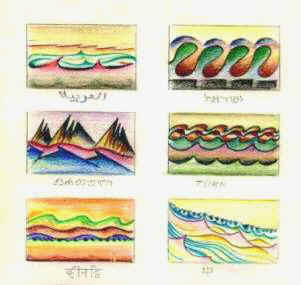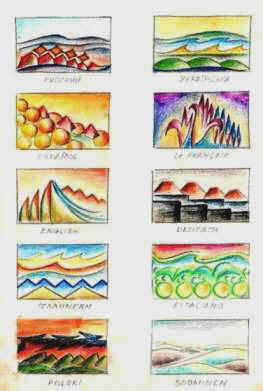 Arabic Hebrew Russian Ukrainian
Georgean Turkish Spanish French
Hindi Chinease English German
Greek Italian
Polish Finnish
SLAVONIC HERALDY (1980) ORTHODOX LATIN ALPHABETS 1980 (scripts in Greek-Bysantine
,
ARMS AND FLAGS OF SLAVIC NATIONS Coptic-Egyptian and Church Slavonic style, worked out by the author)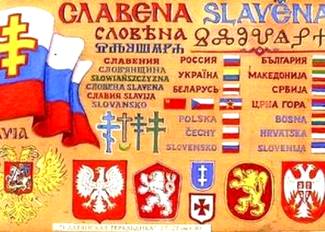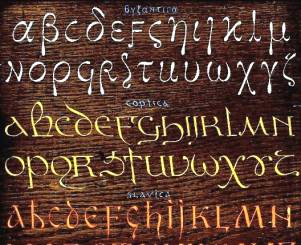 ASIA letters 1982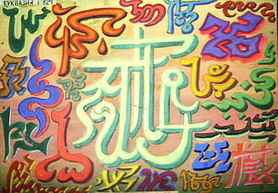 IMAGINARY FLAGS (1981)
The big flags in the center represent the images of 9 main world language families. From left to right 3 row by 3: Indo-European, Ural, Altaic, Chamito-Semitic, Dravidian, Tibetan-Chinese, Bantuan, Austronesian, Austro-Asian languages.
In the left and right outermost columns there are flags of Indo-European and some other languages. Left column: Caucasean, Romance, Celtic, Germanic, Baltic, Slavic, New-Slavic. Right column: Korean, Japanese, Indo-Aryan, Iranian, Armenian, Albanian, Greek. The other smaller flags represents the images of united countries according the principles of language alliance and historical equity.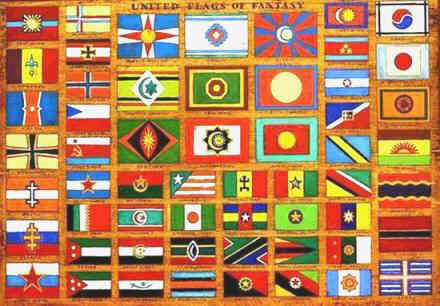 «HISTORY OF ALPHABET» (picture 80õ80cm 1979)
(in every square there is a big Latin letter and its correlations from the other alphabets)